1 ⅞ " Louvers
The 1 ⅞″ louver is our most Traditional louver size. This louver size is in keeping with the older colonial style homes.
Click here to see how the different louver sizes changes your view
2 ½" Louvers
The 2 ½" Louver is a Traditional louver size. They are often used on smaller windows and older homes but can be used anywhere for the classic traditional look.
Click here to see how the different louver sizes changes your view
3 ½" Louvers
The 3 ½" louver is our most popular size. It is a more Transitional size louver and are appropriate for windows of any size and homes of any style. The wider spacing between louvers provides more light and view.
Click here to see how the different louver sizes changes your view
4 ½" Louvers
4 ½″ Louvers offer a more dramatic look with excellent views. Although they can be used anywhere, they are well suited for rooms with larger-than-average windows and/or large walls of windows.
Click here to see how the different louver sizes changes your view
Doors / Sliders
Doors, Sliding Glass Doors, and Sidelights can be a challenge to cover. Most window coverings simply do not work on them. However with Perfect Fit's expertise and customization we are able to offer many options to cover them and make them not only functional but beautiful.
Café Shutters
Café shutters, otherwise known as half shutters, cover only a portion of the window. An excellent choice for ground floor windows allowing for privacy with the addition of unobstructed light from the upper half of the window. This provides privacy while allowing light into the home too.
Specialty
Arches, curves, slants, circles, ovals. hexagons all need to be covered and Perfect Fit has the unique solutions to do it.
Schedule a Free In-Showroom or In-Home Design Consultation
Shop in the Washington Metro Area's largest shutter showroom or in the comfort of your own home.
Perfect Fit's wood shutters are constructed with premium quality hardwoods. Details include Dowel construction, Mortised Hinges, 2 way closer of the Louvers. They go through a multi step sanding process and are finished with a proprietary water-based finish.
Thermalite is a solid synthetic material and is best for anywhere there is high humidity or potential exposure to water. It is designed and paintable just like our wood so can be used in the same room and no one 'wood' know the difference. Thermalite is different then other 'composite' shutters in that it is non-toxic, paintable, insulating and fire proof.
Rabbeted Stiles
Rabbet Stiles allow the shutters to overlap each other when closed to block the light between panels. This provides for a clean transition and appearance. Many companies use an Astrigal strip attached to one of the stiles to cover the gap.
Mortised Hinges
Mortised Hinges are recessed into the panel providing a tighter gap between panels and frame then a non-mortised hinge.
Dowels
Perfect Fit uses 3/8" X 2" fluted and glued dowels spaced every inch for a joint that will last a lifetime.
Closure Up & Down
Perfect Fit's Wood shutters have a unique Rail design that allows the louvers to close fully both in the up and down position. This adds an additional design element to the look of the shutter.
Waterbase Paint
Perfect Fit uses Low VOC water-based finishes on all of its shutters. Today's water based finishes have the look of the old Lacquer finishes without the harmful emmisions. Low VOC paints are better for the enviroment, homeowner and painter.
Tension Screw
The climate is Washington ranges from excessive summer humidity to cold winters which can lead to dry indoor heat. These temperature changes can effect the louver tension of the wood shutters. The tension screw allows the shutter to be adjusted if needed.
Clear Tilt
Clear Tilt is a modern take on Tradional shutters that conceals the Tilt mechanism on the backside of the panel. This allows an unobstructed view through the louvers.
Double Hung
Double Hung are full height shutters but the panels are separated so the top and bottom panels open independently, giving complete control the light and privacy.
Panel Layout
Most single windows can be covered with either a one or two panels. The two panel layout is a classic design where as the single is a more contemporary look. The advantages of the single panel is that it is provides more view but requires more room to open.
Curve Tops
Arches, curves, slants, circles, ovals. hexagons all need to be covered and Perfect Fit has the unique solutions to do it.
Divider Rail
Divider rails are a horizontal rail that separates the top and bottom of the panel so that the louvers can open and closed independently.
Stain
Perfect Fit can custom stain the shutters to match your trim. Made of premium basswood, our stain is hand applied with a low voc water base stain and clear topcoat that provides a UV protectant for a finish that stands the test of time.
Split Tilt Bar
Split Tilt Bars are separate Tilt bars that allow for the upper and lower louvers to be opened independently. Shutters without a Divider Rail allow a bit more light through when the louvers are open.
Perfect Fit offers a number of hinge finishes that can either coordinate with your homes hardware or choose a painted hinge to blend in with your shutters.
Interior Shutters Photo Gallery
What our customers are saying about us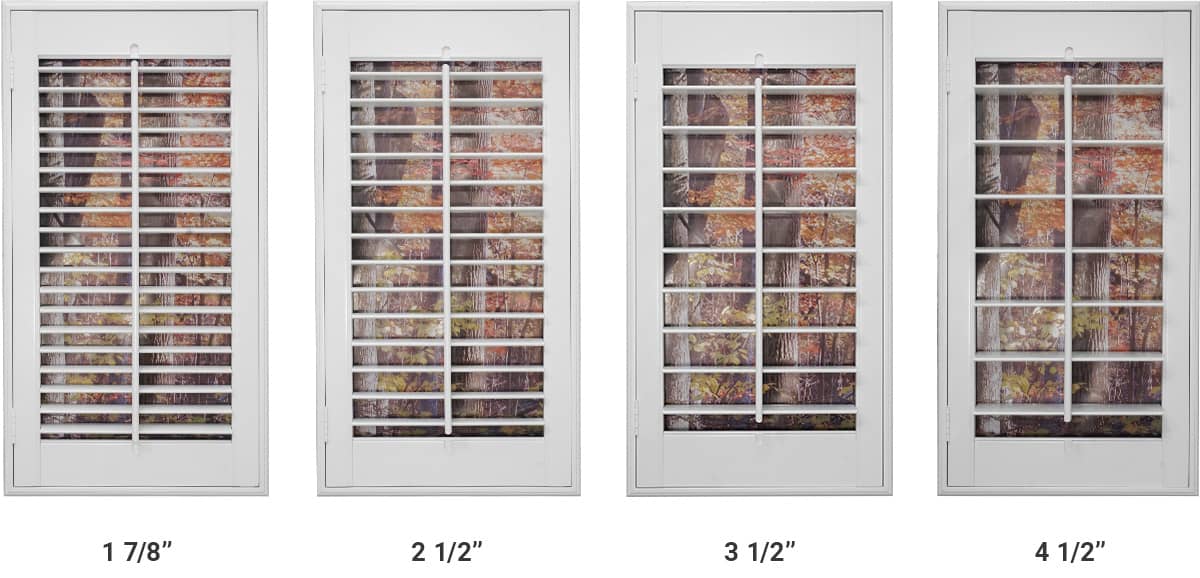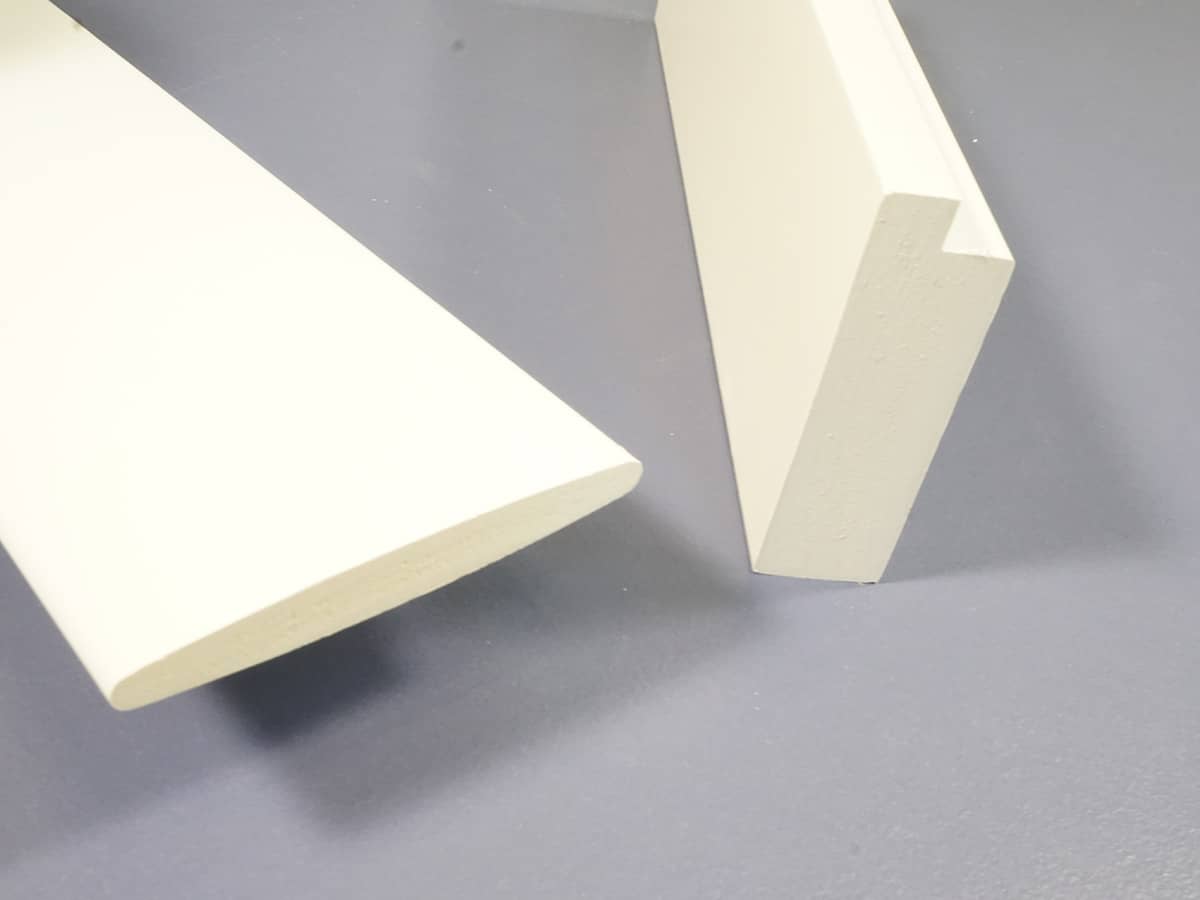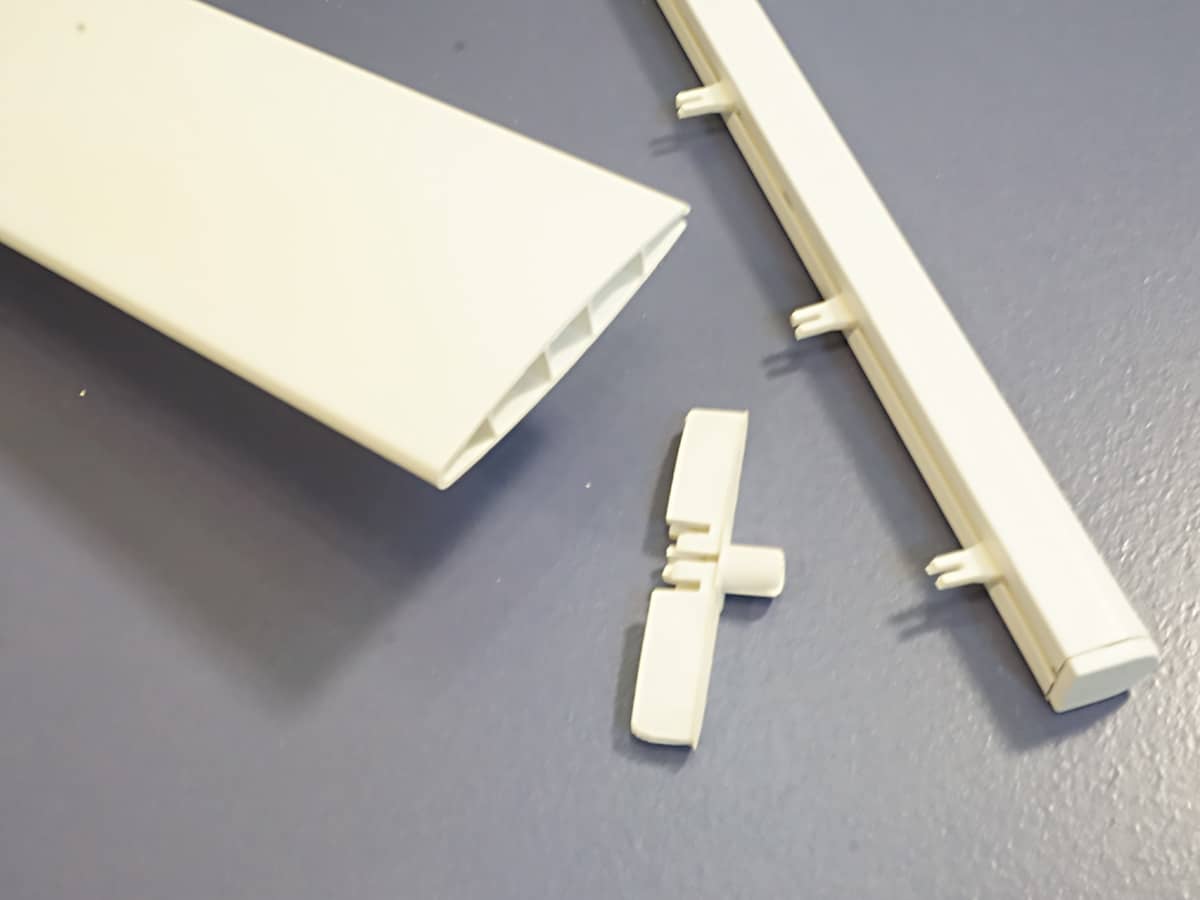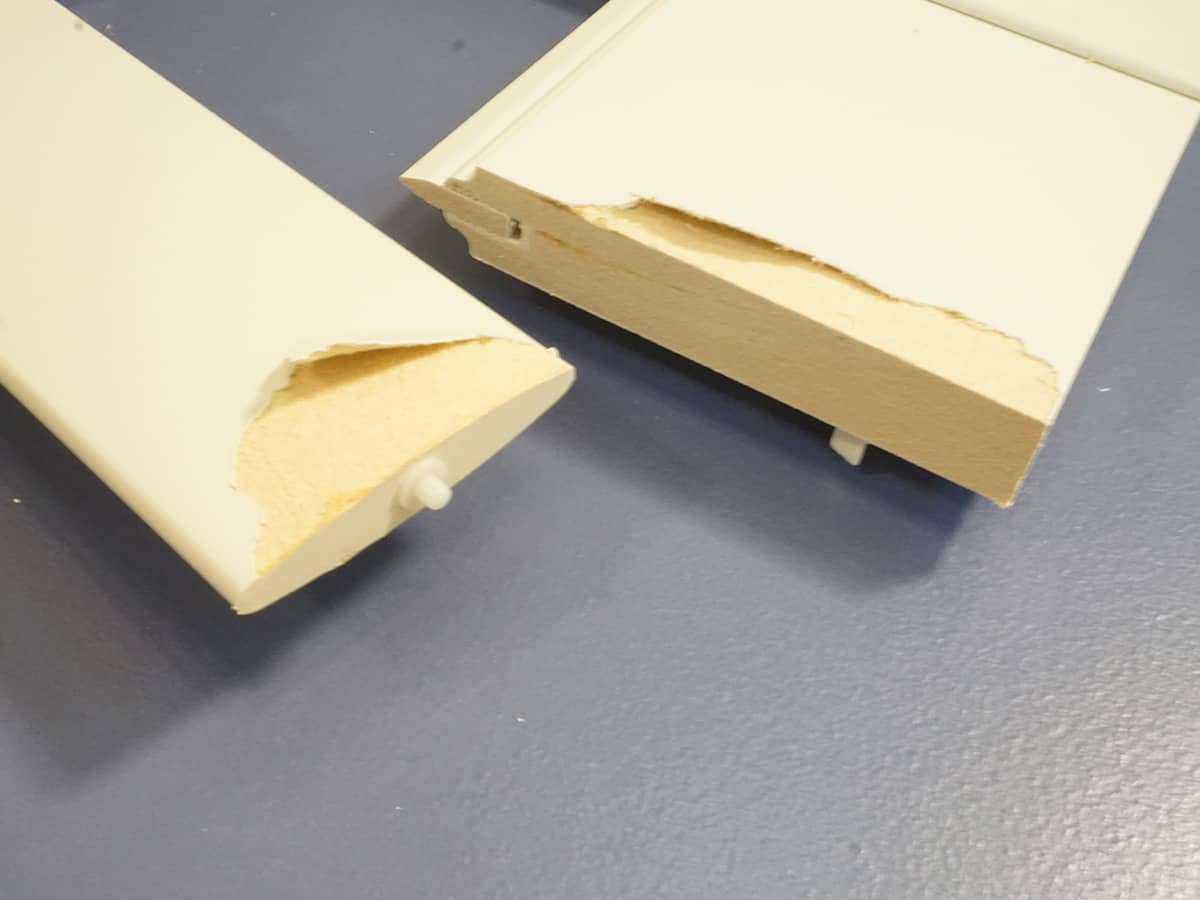 While Composite shutters can have benefits over Wood, they are not all the same. The list includes Medium Density Fiberboard (MDF), Poly Resin Vinyl and Polypropylene (Poly).
MDF is a compressed wood made up of sawdust and glue and wrapped with a vinyl coating. The vinyl coating can lift off over time or if exposed to too much moisture. The glue typically contains formaldehyde which can be toxic.
Poly Resin are hollow vinyl shutters. The ends of the louvers and stiles are capped. The tilt bars and louvers are attached with plastic connecters which become brittle over time and break.
Thermalite is a Poly shutter. It is a solid extruded material that is non-toxic, machinable, and paintable like wood, moisture and fire resistant and insulating.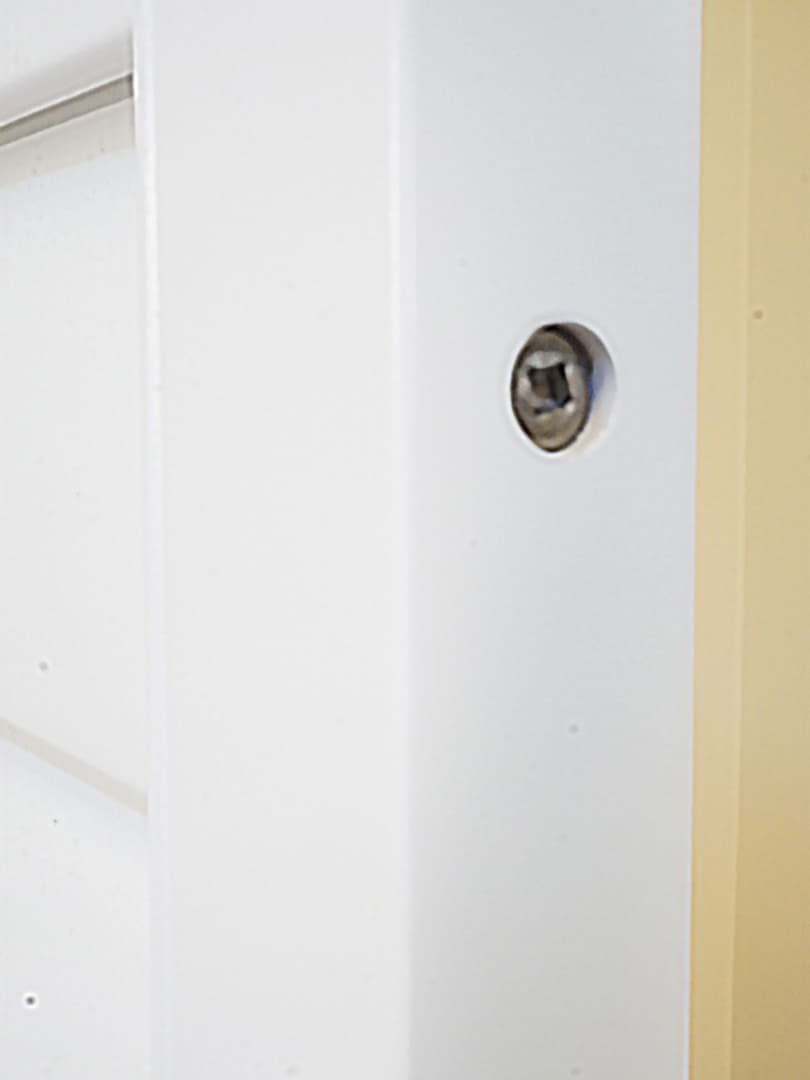 Clear Tilt Hidden Tilt Rod

Shutters With Divider Rail
Shutters With Split Tilt Bar